Dr. 
Marcia

Halajeski
– DC, B. Sc. –
Downtown Vancouver CHIROPRACTOR
Specializing in TMJ Treatments and General Wellness
Live your life optimally.
85% of any correct diagnosis that a doctor can make will be uncovered by doing a thorough history. We want to look at what's really happening beneath the surface, and beyond symptoms.  In the first visit, you can expect to meet with Dr. Marcia to discuss your health history. 
Our goal is to help you attain a better quality of life by improving your musculoskeletal health. Our hands-on health care approach can help you feel better from head to toe. 
Compassion is an important part of the chiropractic process. When you visit, you'll feel reassured that you're needs are met in a calm, safe place where everyone is given equal respect. No judgement. 
Pediatric & family chiropractic services
TMJ Treatments (Temporomandibular Joint)
Diversified Technique
Certified ART (Active Release Technique) Provider
Mckenzie Protocol for Low Back
Nutritional Advice
Ergonomic Reviews
Activator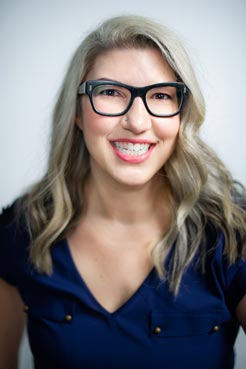 Dr. Marcia Halajeski, D.C., B.Sc. was born and raised in Portage la Prairie, Manitoba and for the past 10 years, has called Vancouver, BC home.  After pursuing a variety of career paths involving teaching, Canadian Armed Forces, as well as accounting, Dr. Marcia finally found her true calling in the wonderful profession of chiropractic.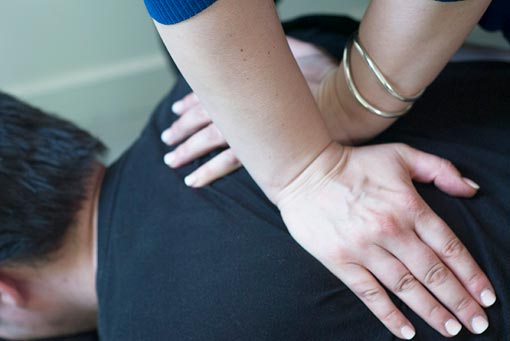 Bay Wellness Centre
555 West Georgia Suite 100
Vancouver, BC V6B 1Z6
Modern Holistic Chiropractic
302-1037 West Broadway
Vancouver, BC V6H 1E3
Office Phone:
604-440-1725
Email: marcia.halajeski@gmail.com
Katherina Cortes

I was looking for a chiropractor who does manual manipulation combined with the use of the Activator and I found her! Marcia helped me with my jaw which was actually causing blockage in my hearing and after one session I was experiencing relief! Go see her!

Meghan Graham

Dr. Marcia is the best! I went to her with chronic hip and neck pain and came out of her office feeling like a new person. She really takes the time to get to know you and your situation. You will not be disappointed!

K Mulder

I have been seeing Dr. Marcia for TMJ therapy for tension in my jaw and shoulders for several months. It's been more than a physically therapeutic process because she has shown me how I hold stress and anxiety in my muscles, especially in …More

Heather Kim

The most compassionate and caring person!

Heidi Hartman

After suffering for 24 hours from a tweaked back, I called Dr. Halajeski for some advice… I didn't know if I should apply ice or heat or what I could do to help ease the discomfort. I'm 8 minutes, she asked helpful questions to understand …More

Kerry Smithies

I have had chronic pain radiating to my hand for three years. Dr Marcia was able to determine the cause, and using active release therapy tecniques in addition to her excellent chiropractic skills, has me well on the way to recovery. So delighted. I am loving the absence of pain. Highly recommended!

Ryan Thomas

For a long time, temporomandibular joint disorder (TMJ) has caused me the usual issues (headaches, dental issues, and a general feeling of stress). Last year I also developed tinnitus and so finally sought help. …More

Adele Kafer

I saw Dr. Marcia for an issue with my tailbone that I have had for a few decades. She helped me with my SI Joint and some resulting sciatica and she increased my mobility. Her gentle approach to chiropractic medicine is one that I feel …More

chandra krishnan

I would recommend Marcia to anyone who are going through sports injury or pain , also from just sitting at a desk job .
I had a bad knee from soccer and other sports , Marcia focused to increase my …More

multiservices vancouver

Dr. Marcia is amazing! I've never been to a chiropractor in my life, and wasn't sure if I needed to. I'd been having some pain in my back for a couple of weeks and after seeing her the pain was gone and I haven't felt better since. I strongly recommend going to see her, she is an excellent chiropractor and very knowledgable!

Pamela Cochrane

Dr. Marcia is an attentive, caring, and brilliant chiropractor. She is extremely thorough in her assessment and uses gentle but effective techniques to help you. My neck has bothered me on and off for years, and after only two sessions, it …More

Larry Weiss

I went to Dr. Marcia because I had severe low-back pain after I had done some heavy lifting. Sitting for any length of time was difficult and walking wasn't without discomfort. After a month of multi-week visits to her practice my pain …More

Brandi E

I started getting adjustments from Dr. Marcia a couple months ago for general care. She did such a thorough job looking at my past health conditions. Even discovering an old childhood injury that was causing chronic foot pain I had come to …More

Flora Gordon

Dr. Marcia Halajeski is an excellent chiropractor and very approachable. She identified that I was clenching my jaw and did some manual work on it to relieve the strain on it. I felt amazing, long-lasting pain relief afterwards, more mental clarity and more energy. I am very thankful.

sarah hull

Following having a large baby I suffered painful sciatica, he was a very heavy baby to continuously be lifting up and down. I also had a very painful neck from nursing. 10 months pp I went to see Dr. M through a referral from a friend. I've …More

Vajeh Dasht Laali

Dr. Marcia is amazing! She is a true professional, focused on her patients' health. She educates her patients on practical recommendations and at no point she makes you feel pressured. I highly recommend Dr. Marcia!

Alexandra Colella

My experience with doctor Marcia has been nothing but awesome. I was always afraid of going to a chiropractor as I suffer from rumhatoid arthritis and have also been in a severe case accident. I didn't want any cracking of neck. Dr Marcia …More

J M

I've been going to see Dr. Marcia for almost two months now. She has put my mind and body at ease. I had been suffering from nerve trauma for years, but now I rarely notice it. She is a magician and a skillful doctor!

Ivana Culina

Dr. Halajeski thank you for making all my fears of what I thought Chiropractors do; go away! I have been struggling with a few issues regarding my neck and mid back. I felt for the longest time that I was stuck in a cocoon. I felt tight and …More

Kelly Valente

My name is Kelly. I felt nervous about chiropractors but was in quite a bit of pain and a friend suggested that I give Marcia a try. …More

Delia Schatz

AMAZING! I always said I would never go to a Chiropractor because I didn't believe in them. I'm not too proud to say I was wrong. Dr Marcia is one of those docs that isn't there to run people through a conveyor belt to maximum patient …More

Leslie Itterman

Dr. Halajeski is absolutely one of the best chiropractors in Vancouver. She is knowledgeable and caring and takes time to answer your questions. Once you are adjusted by Dr. Halajeski you will feel better from head to toe as she ensures …More

Katrina Sovio

As a physiotherapist, I look for colleagues to refer to whom I can trust will put clients best interests first and Dr. Marcia definitely is one of these colleagues. She is passionate about her practice, gentle when she needs to be and her treatments are effecitve. Highly recommend her as a chiropractor.

Brenda C

There are not enough stars! I give Dr. Marcia 6 out of 5! When I read that Dr. Marcia uses the Activator instrument adjusting technique, it allayed all my fears of going to a chiropractor. Dr. Marcia has helped me tremendously with a hip …More

Garfield Wilson

Dr. Marcia Halajeski is incredibly knowledgeable and talented in her field. I've owned and operated Forward Fitness Inc. for the last 14 years. It is extremely gratifying to know that if/when my clients have issues that go beyond my scope …More

Eddie Hall

Highly recommended! Dr. Marcia takes the time to make sure you feel comfortable with what she is doing and is very knowledgable in her field. Look no further if you need a great chiropractor in Vancouver, Dr. M is the best! 🙂

Alexandra Osan

Dr. Marcia Halajeski is incredibly talented in her field, and very approachable! After years of constant back pain I'd gotten used to feeling the daily discomfort in my neck and shoulders. After only a few sessions with her I can't believe …More

Jacq Holder

I wish I could give 10/5 stars, because that's how good Marcia is. I'd struggled with my jaw for years, and although I was nervous about seeing for a chiropractor for the first time, a friend convinced me to go. After my very first session …More

Christian Schimert

Marcia is amazing! When I consulted her the first time I was in in a bad state. I suffered from excruciating pain in my right arm and shoulder and was unable to turn my neck at the end of each work day. I had trouble bending down binding my …More

Jennifer Kobelt

Dr Marcia is so wonderful – she has a heart of gold and knows so much more than just how to adjust your spine. I went to her with headaches and figured it was a neck issue – she helped me see it was a jaw issue and did some work that gave me immediate relief for a whole week! I'll definitely be going back to her 🙂

Kemi Wells

I highly recommend Dr. Marcia. She is very good at what she does and makes you feel at ease! I love her style of client care and Dr. M really takes the time to get to know you and goes above and beyond the typical quick adjustment!

Riley Parker

I had really bad rib and back pain, as it later turned out I had ribs out of place, once I was done the first session I was able to breathe properly and had most of my range of movement back. As the sessions have continued I now have all my …More

Courtenay Pletz

Dr. Marcia has helped me a lot with my TMJ and hip issues. She is thorough in her assessment and treatments as well as providing really great explanations as to why you might be having the issue and how chiropractic may help. Highly …More

Tim Shrigley

Feeling better already! After 2 days of pain and immobility in my neck/shoulder, I booked a same day appt with Marcia to see if she could help. After 20 mins of discussion and treatment, I immediately felt a decrease in pain and increased …More

Kristina Nielsen

Dr. Halajeski is absolutely incredible! She makes you feel welcomed and comfortable. Her adjustments are so quick and painless! I always leave feeling better than when I came in. If you are nervous about trying Chiropractic out or have …More

Alexia Harris

It has been an incredible experience working with Dr. Marcia! I have been adjusted by many other practitioners, many times in the past, and never experienced the amount of relief and overall wellness I am currently experiencing in my body …More

Kevin Hicks

Dr. Marcia is amazing! I came to her with jaw issues and postural problems. We started with the jaw as that was causing immediate pain. In little over 3 weeks my jaw has improved immensely and we are now working on my posture by taping my …More

Ester Bovard

I started seeing Marcia about two months ago for severe recurring shoulder pain I've been experiencing on and off for the past few years. I was immediately impressed by her incredibly thorough approach in understanding how my medical …More

Ingrid S

Dr. Marcia has an incredibly broad understanding of contributing causes to pain and skeletal dysfunction. She is very personable, sharp and perceptive which makes communicating with her about pain very easy. She has been treating me for a …More

Laura MacCormack

Dr Marcia is awesome. I have been seeing her as needed for over a year and every time something in my back "goes out" or is not functioning within a few treatments she has literally cured me. I highly recommend her as a Chiropractor, she is great!

Monica Costello

I've been seeing Dr.Marcia for about 2 months now as I was having low back and hip dysfunction challenges. With her consistent care with the adjustments, videos and exercises that she prescribed my pain was eliminated and I was no longer kept awake at night with the pain. Thank you!

Erin Imrie

Dr Marcia is amazing. So knowledgeable about all things TMJ. Also she also suggested my husband seek further treatment for sleep apnea via a CPAP machine and this has been life changing. Finally a good uninterrupted nights sleep for everyone involved. Thank you

Kerri Garner

Dr. Marcia is fabulous! I have been seeing her for a few months now for chronic headaches and her treatments have really helped. Dr. Marcia is trained in TMJ work, which I have never had before and my headaches have definitely reduced and …More

Megan Galbraith

I have been to a couple of different chiropractors in the past for treatments, but have never "stuck with the program." I work in an office environment and spend lots of time at a desk in front of a computer accordingly. As such, I have a …More

Devon Guerriero

My experience with Marcia has been incredible. In just 2 months my life has done a complete 180. For the past 8 years I've had neck and back issues from a car accident that has lingered and effected my life significantly. Marcia has an …More

Tak Wai Poon

I had long term issue with my shoulder and neck! Marcia was quick to help reduce pain and gave me a game plan for recovery. She really took the time to listen to how I felt and how did the issue started. I highly recommend Marcia as a practitioner !

soysuki k

Its been a long overdue dealing with my distressing feeling/ uncomfortable pain that have been lingering for years.. finally i got to meet Dr.Marcia. Even before i decided to see her, i did a bit of research, and went to go see different …More

Violet One

After my first session with Marcia, I left the clinic being able to breathe with a lot more ease. I didn't know this was even an issue for me and I didn't mention it. …More

Zohar Hagbi- Intuitive Painting

Marcia Marcia Marcia… what can i say? i can't say enough!
for the last 4.5 years iv been suffering from lower back pain, could not stand on my feet for more than 10 minutes with out having soooo much pain. …More

Morgan Ayres

Marcia is amazing. Such a happy and outgoing person!!! She is amazing at what she does. Currently getting treated for some ankle, back and neck problems and improving daily! Marcia has amazing patient care and targets just the right areas. If you need a great chiropractor go see Marcia!

lynn praud

About 10 months ago I had excruitiating lower back pain radiating down my leg. It made it very difficult to work and continue with my yoga practices. 2 or 3 visits to Dr M and I was good as new. Recently I experienced cervical joint …More

Linda Zhao

Almost don't want to give her a review in case she becomes too buy for me to book! But she's amazing. Had a sleeping neck/back problem and she helped fix me up and makes sure I continue to do my stretches. She does this other muscle …More

Kate Jay

I've always been fascinated by chiropractic work but a little too scared to try it out. However I was in a meeting recently where I popped a rib, which gave me immediate pain and caused my neck to seize up. It wasn't all bad though, because …More

Sophia Cote

I have been having awful headaches resulting from clenching my jaw for years, which has resulted in ear fullness and ear aches. I tried everything – mouth guard, massages – and nothing seemed to work. I finally decided, albeit hesitantly, …More

Michelle Rustrian Lopez

Marcia is amazing! I've been seeing her on and off for the last year and my couldn't feel better! She helps me improve my posture and my tendonitis. Couldn't recommend her more if you're looking for a reliable and experienced practitioner! Thank you for all your help!!

Nancy van Groll

All my life I have dealt with anxiety, and for years, stress has manifested itself in my body as TMJ dysfunction. It is only now, after gentle and informative sessions with Dr Marcia that I can fully realize the plethora of other symptoms …More

L W

All my life I have dealt with anxiety, and for years, stress has manifested itself in my body as TMJ dysfunction. It is only now, after gentle and informative sessions with Dr Marcia that I can fully realize the plethora of other symptoms …More

Zohar Levin

I came across Marcia through a friend as I was suffering from Benign Paroxysmal Posiitonal Vertigo for a few years now. It comes and goes and it was very bad lately. I tried acupuncture but it didn't work. I went to Marcia and after one …More

Matt Clarke

Marcia is amazing. She not only provided immediate release of some very awful neck and shoulder pain when I first came to her, but has also helped immensely to address long term pain and the causes and symptoms. She's relaxed, very …More

Wayne Chow

I had an upper back injury and it was quite painful to turn my head. I was very fortunate to be able to book an appointment with Marcia because she was able to alleviate most of the pain I was experiencing on the first visit. Over the …More